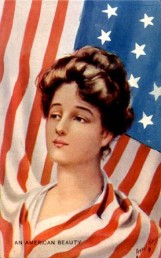 The All-American Pearl™ Collection
Pearl Oasis now offers the All-American Pearl Collection™, fine pearl jewelry made from pearls cultured in the lakes of Tennessee. These freshwater pearls are sometimes called "Tennessee pearls". These beautiful American freshwater pearls are grown longer than most Asian freshwater pearls. The longer culturing time means that the All-American Pearl has thicker nacre and a deeper luster. They are a better quality freshwater pearl. The settings used in the All-American Pearl Collection™ are designed and cast in the USA by American artisans. The All-American Pearl Collection™ currently includes
rings
, and
earrings
. Each All-American Pearl Collection™ item comes with an authenticity tag stating that the item is made with pearls cultured in Tennessee.
This collection of fine pearl jewelry is made with pearls cultured from mussels growing in the waters of the Tennessee River in Benton County. John Latendresse (1925-2000), began attempting to culture pearls in the fresh waters of North America approximately 25 years ago. Over 300 bodies of water were tested for ideal conditions before the final selection of eight pilot locations to begin attempts at culturing. Success levels were measured and compared. It was determined that the prime location for productivity was only five miles from his home, in the placid waters of Birdsong Creek in Camden, TN.
Mussels native to the Tennessee River have a quality that is unlike most species. The actual shell of the animals is of a greater thickness than those found anywhere else in the world. The two species most frequently used in the pearl culturing process are Washboard and Pigtoe. Mussels are gathered by local divers from the river bottom and sold to the pearl farm operation.
See our Pearl Types Page and Freshwater Pearl Page for more information about freshwater pearls.