Scroll Down To See A Picture Of The Item And To Order.
4X6MM White and Black Freshwater and Onyx Element Necklace 38in; Sterling Silver (Item Number: NS1008)
This item features genuine freshwater cultured pearls. Pictures and description are of the actual item. What you see is what you will receive. Pearl Information: Pearl Type: Freshwater cultured pearls. Size: 4X6MM to 4.5X7MM. Shape: Oval. Body Color: Natural creamy white color and treated black color. Luster: High. Surface: Very Slightly Blemished. Nacre Thickness: Thick. Matching: Very Good Match. Origin: China. Length: The necklace is totally 38 inch long. Top section is one strand 16 inch long. Two black Onyx gemstone connectors hold three strands. Clasp: Sterling silver. Gem Information: Genuine black Onyx stones. 8X10MM. Total weight is appro. 2 carats. For Cultured pearls, we use the cultured pearl grading standards provided by the Gemological Institute of America (GIA) and The Guide for Grading Akoya Cultured Pearls by Gemworld International, Inc. We use the G.I.A. Gem Pearl Master Comparison Set to actually compare with the pearls we grade. List Price: $119

Pearl Oasis Price: $59.50
(Orders totaling $100 receive an additional discount.)
SAME DAY SHIPPING - Item ships same day if ordered before 10 AM EST (no shipping on Sun). It is now 09:16 PM EST .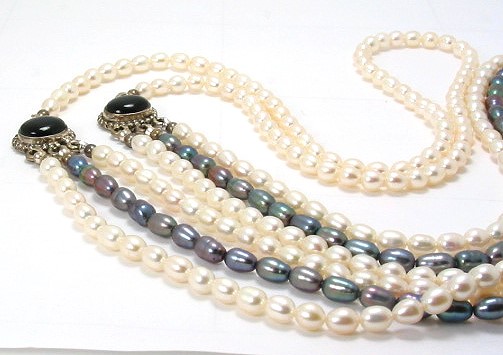 Alternate View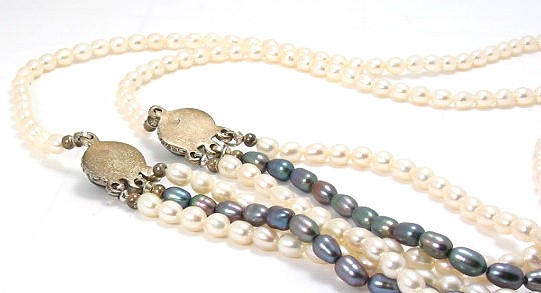 Additional View