Famous Brand Pearl Quality Without The Price!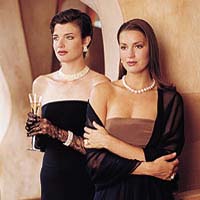 Pearl Oasis now offers the widest size range of Hanadama Grade cultured pearl necklaces of any on-line retailer. Hanadama grade is the highest quality grade and is certified by the Pearl Science Laboratory, recognized third party authority on pearl quality. That Famous Brand characterizes its pearls as hanadama, but offers no third party certificate to prove it. See our full collection of Hanadama Grade pearl necklaces along with the actual certificate from the Japan Pearl Science Laboratory for each necklace.
Pearl Oasis tells you how it grades its pearls. The Famous Brand does not tell you how it arrives at its grading. Pearl Oasis offer appraisal of the quality of our necklaces from a third party (Pearl Science Laboratory) for our Hanadama grade pearls. The Famous Brand does not offer third party appraisal. You be the judge of whether Pearl Oasis or the Famous Brand offers you the best value.
A word of caution when buying that Famous Brand, "the Famous Brand" markets several lower quality lines through national jewelry chain stores. If you see the word "by", its the lower quality line. Also, "the Famous Brand" never sells at a discount. If the jewelry is being sold at a discount, it's not "the Famous Brand".