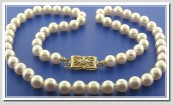 White Akoya Pearl Necklaces
The word "Akoya" means "saltwater" in Japanese. Akoya pearls are cultured using a variety of oyster that only grows in salt water. Historically, saltwater oysters were first used at the beginning of the 20th Century to produce pearls through pearl farming. Akoya pearls are naturally white. Black akoya pearls are treated to make them black. Call them Akoya pearls, saltwater pearls or Japanese pearls, these pearls are use to produce the finest quality pearl necklaces.
Today, both Japan and China produce Akoya pearls. You will find that we identify the country of origin of the pearls we use to make our Akoya pearl necklaces. Since we do our own grading, an AA+ Japanese Akoya pearl necklace will be the same quality as an AA+ Chinese Akoya pearl necklace.
Below you will be able to search for your Pearl Oasis white akoya pearl necklace by length, pearl size, and quality.
Can't find your length? Visit our Custom Page. You can design a single strand pearl necklace, or double strand pearl necklace.
Looking for bigger white pearls? Consider our South Sea Pearl Necklace Collection.
Looking for naturally black pearls? Consider our Black Tahitian Pearl Necklace Collection.
Looking for black or gray Akoya pearls? Consider our Black and Gray Akoya Pearl Necklace Collection.
Looking for a different style of pearl necklace? Visit our
Pearl Necklace Page
where you will find
tin-cup necklaces
,
Lariats
,
pearl necklace and pendant combinations
,
multi-strand pearl necklaces
, and a host of other attractive designs.