Scroll Down To See A Picture Of The Item And To Order.
AA Grade 7-7.5MM Chinese Akoya Cultured Pearl Necklace 14K Clasp, 32 In. Special! (Item Number: NE2233)
Pearl Type: Akoya saltwater cultured pearls. AA grade. Size: 7 to 7.5MM. Shape: Round. Body Color: Creamy White. Overtone: Pink. Luster: Medium to High. Surface: Slightly Blemished. Nacre Thickness: Medium. Matching: Good Match. Origin: China. Length: 32-inch (Opera). Hand knotted between each pearl. Clasp: 14K Yellow Gold Designer's fishhook clasp.
For Akoya pearls, we use cultured pearl value factor standards provided by Gemological Institute of America (GIA) and The Guide for Grading Akoya Cultured Pearls by Gemworld International, Inc. We use G.I.A. Gem Pearl Master Comparison Set to actually compare with the pearls we grade. The G.I.A. Gem Pearl Master Comparison Set is developed by Gemworld International, Inc. and International Cultured Pearls of The Orient, Inc. for G.I.A. and exclusively provided by G.I.A.

List Price: $1280.00

Pearl Oasis Price: $512.00 Now
$409.60

- 68% off list price after applying special discount.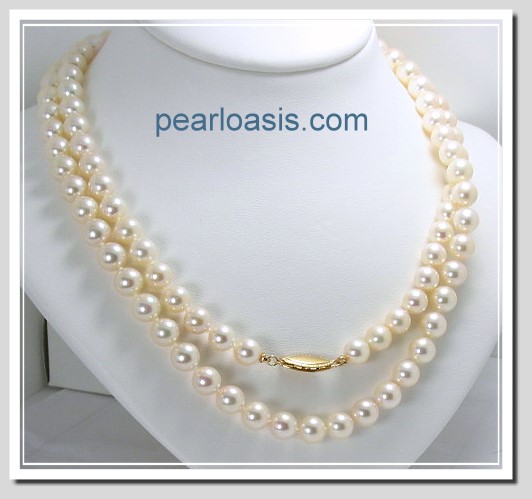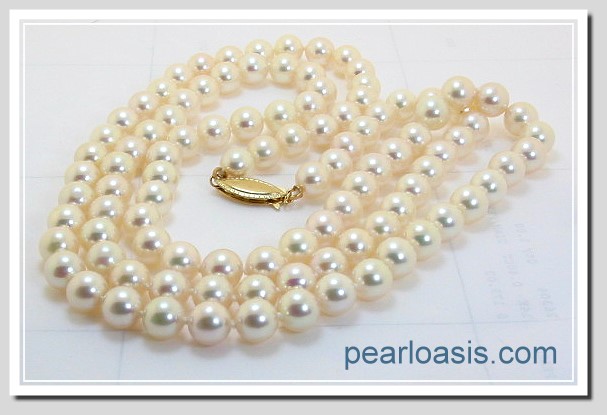 Alternate View