Scroll Down To See A Picture Of The Item And To Order.
17X17MM Heart Shape Mabe Pearl Ring 14K Yellow Gold Sz 8 (Item Number: R0605)
This item features genuine cultured mabe pearl. Pictures and description are of the actual item. What you see is what you will receive.

Pearl Information:

Pearl Type: Mabe Cultured Pearl. AA+ grade. Size: 17X17MM. Shape: Heart shape, flat back. Body Color: White. Overtone: Slightly metalic silver gray. Luster: High. Surface: Smooth surface. Nacre Thickness: Very Thick. Ring Size: 8. Sorry we do not offer ring sizing for this item. Setting:14K Yellow Gold.
Please see the matching earrings E0929.
For Cultured pearls, we use the cultured pearl grading standards provided by the Gemological Institute of America (GIA) and The Guide for Grading Akoya Cultured Pearls by Gemworld International, Inc. We use the G.I.A. Gem Pearl Master Comparison Set to actually compare with the pearls we grade.

List Price: $399.00

Pearl Oasis Price: $239.40 Now
$191.52

- 52% off list price after applying special discount.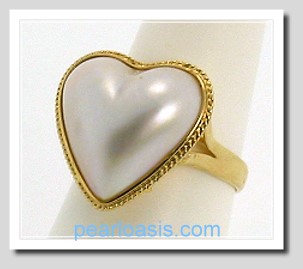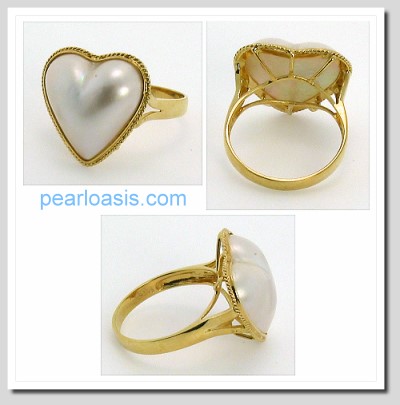 Alternate View