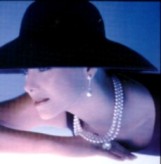 Pearl Oasis Cultured Pearl Jewelry
Welcome to Pearl Oasis. Our jewelry is made from fine quality Japanese Akoya saltwater cultured pearls, Chinese Akoya saltwater cultured pearls and Chinese freshwater cultured pearls. We offer a wide selection of pearl necklaces, pearl earrings, pearl bracelets, and pearl pendants. We also have a great selection of Tahitian pearls (natural black pearls) and South Sea pearls. Our prices are extraordinarily low, because we buy pearls in bulk and do our own design and stringing.
Our Japanese saltwater cultured pearls are imported in bulk directly from pearl farms in Japan. We handcraft many of our Japanese cultured pearl jewelry items to the customer's specification. We have a beautiful selection of saltwater cultured pearl necklaces, earrings, pendants, and rings too. See how our cultured pearls compare with Famous Brand pearls. Visit Famous Brands Compared . Learn the difference between Akoya pearls from Japan and China. Visit Japanese Akoya Pearls vs. Chinese Akoya Pearls.
We also offer excellent prices on mabe pearl earrings, mabe pendants and mabe rings, and we offer great values in Tahitian pearl jewelry. Tahitian pearls are the only natural black pearls.
Pearls make a very romantic gift for any occasion. They make a great gift for weddings too, and we offer special bridal packages at very attractive prices.
Take a look around our site. The time you spend will be worth your while. You can order on-line through our secure catalog or you can phone your order in on a toll-free phone number.